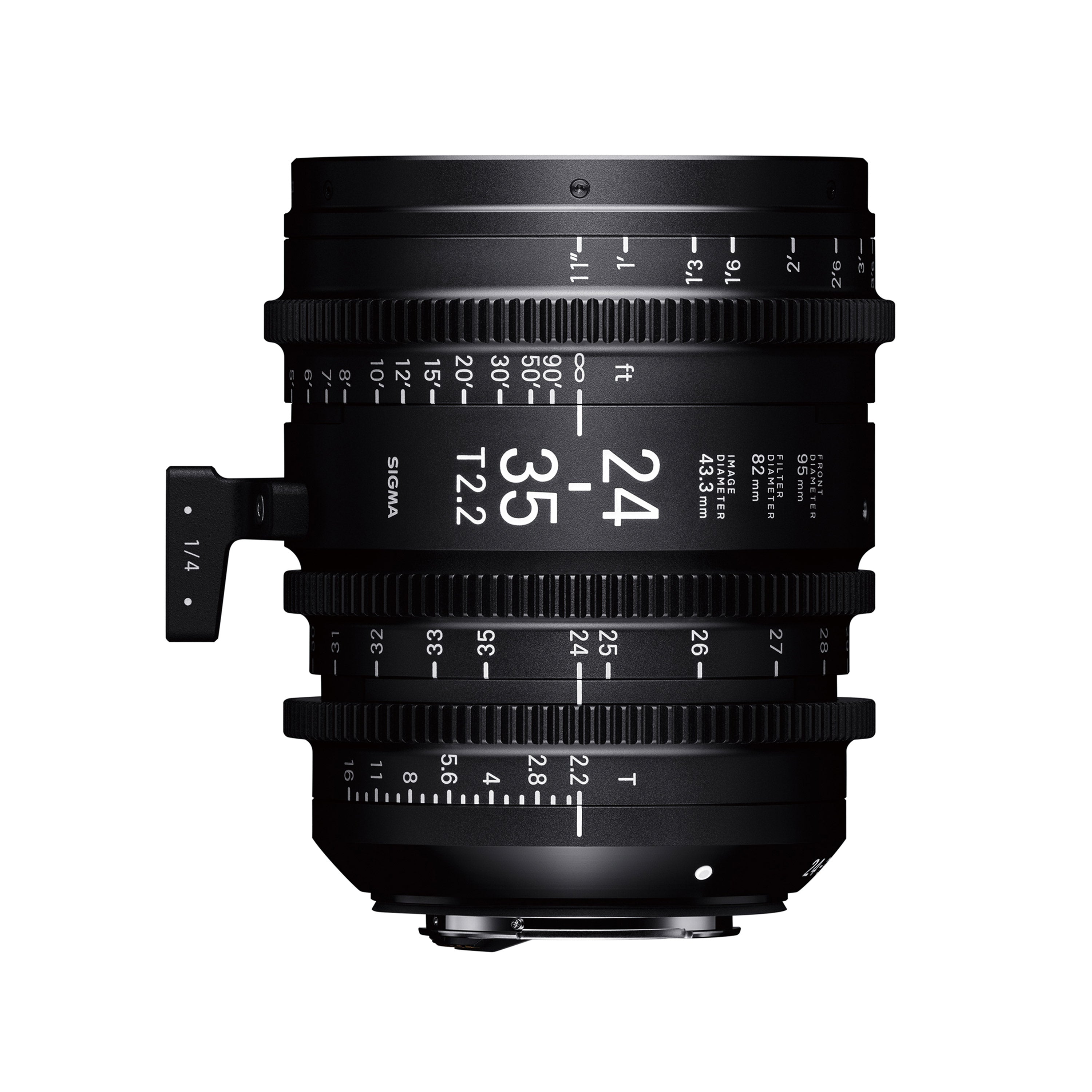 24-35mm T2.2 Cine FF Zoom
6K-8K class resolution
The lineup features the same optical system that deliv­ers 50-megapixel or higher resolution in still photogra­phy. These lenses are therefore ready for higher resolu­tion shooting, and are ideal for chroma keying as well.
Lightweight and compact
Leveraging the high-precision, high-efficiency mass production technologies developed for its still camera lenses, SIGMA has made extremely lightweight and compact cine lenses a reality. Featuring all functions essential to cinematography, these lenses keep weight and size to a minimum, while their specification is opti­mized for enhanced durability. The end result is a com­bination of performance and compact design at the highest level.
Dust-proof and splash-proof construction
The lineup features the same dust-proof and splash­-proof construction as the SIGMA 150-600mm F5-6.3 DG OS HSM I Sports. With each ring and mount specially sealed to prevent water and dust from entering, this lens is ready for use in tough conditions. The unusually robust specification of the lineup allows the user to concentrate on shooting while significantly reducing the burden of maintenance.
100% metal body
The body is made completely of metal to stand up to tough professional use over the long term.
Luminous paint for enhanced visibility
The specification, gradation baseline, and lens change indications all feature luminous paint to aid in changing the lens in the dark and other tasks. Moreover, new FULLY LUMINOUS versions of the lenses feature the above plus rings whose numbers and gradations are finished with luminous paint.
EF mount, E-mount, and PL /i mount available
The lenses are available in Canon EF mount, which is used on the majority of digital movie cameras, Sony E-mount, which is used on the Sony FS series; and PL /i mount, which is prevalent on cinema cameras. All lenses in the lineup may also be used on still cameras with the compatible mount for outstanding still camera videography. 
*24-35mm T2.2 FF not available with PL mount
95mm front diameter
The front diameter is 95mm, similar to that of other cine lenses and compatible with matte boxes. Compared to lenses in the same class, SIGMA's cine lenses are more lightweight and compact.
180° focus rotational angle
At 180° the rotational angle of the focus ring is more than double that of a still camera lenses, making pos­sible extremely high-precision focusing. SIGMA has also optimized the cam for cine lenses for even easier long distance focusing.